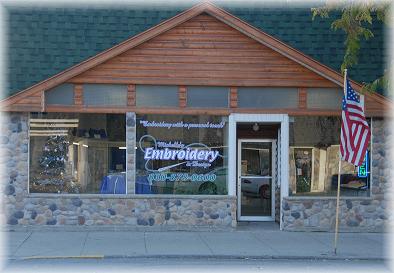 We realize that your image or corporate logo is important to you. Located in Croswell, we invite you to stop in and look over the varied selections and discover why we have become this area's embroidery and screen printing connection.

Michelle's Embroidery & Design has earned an excellent reputation for satisfying the needs of area organizations, clubs, leagues, private businesses and schools with quality services. We carry a complete selection of printable items including T-shirts, jackets, sweatshirts, golf shirts, corporate apparel uniforms, jerseys and caps, and all are offered in various colors, sizes and styles. Bring us any design and we will recreate it in colors and effects that will command attention. Special lettering, figures, trademarks, and spectacular designs are all artistically produced. We offer multi-colored quality embroidery and screen printing and can accommodate both large and small orders.

You will find at Michelle's Embroidery & Design our prices are right and quality is always first. We know that to please a customer is to keep a customer, and best of all, it won't cost you the shirt off your back.


Our store features a wide selection of customizable items such as:
Golf/Polo Shirts
Caps
Denim
Towels
Uniforms
Jackets
Vests
Aprons
Bags
T-Shirts
Personalized gifts
And Promotional Products such as pens, mouse pads, sports items and stickers.